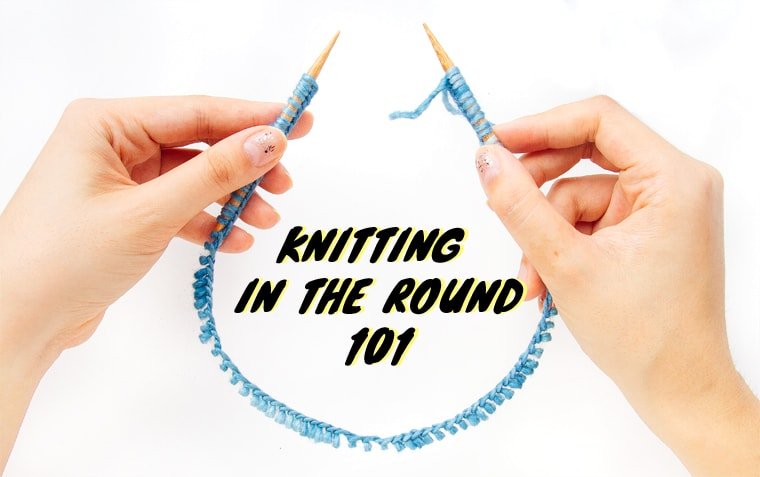 Knitting in the round is essential for going beyond the basics. 

You might think that it's scary or complicated, but that couldn't be further from the truth! Knitting in the round is one of the easiest techniques to master.
And here's the good news: 
once you learn it, you probably won't want to go back to regular flat needles. I know I didn't!
In today's post, I'll show you how to master knitting in the round step-by-step. We'll explore the foundations of knitting in the round, learn how to choose the right needle, and go through a detailed tutorial. You can learn by watching an in-depth video tutorial or by going through a detailed photo guide at the bottom of the page.

Let's get started!
What are Circular Needles?
First thing's first: let's talk needles.
Regular "flat" needles have a point on one end and a stopper on the other. They're probably the first needles that you encountered as a new knitter. 
Circular needles look like two needles joined together with a flexible cable. There's no end with a stopper. Instead, both ends are pointy. 
Circular Needles vs Regular Needles

Circular needles are meant to do what regular knitting needles cannot: knit a seamless round tube. 
While flat needles are great at knitting two-dimensional objects like squares and rectangles (think: scarves), circular needles are designed to knit three-dimensional tube-like things. 

Think about hats, sweaters, socks, and mittens. These are all things that have some element of a tube. 

While you can knit all of the above with flat needles, you would need the extra step of sewing the knitting together to make a tube. 

The genius of knitting in the round is that the tube is made right at the cast on. The resulting knitted fabric is a seamless tube that can be shaped with increases or decreases into whatever your heart desires!
Knitting in the Round is Like…

I love a good analogy. They transform complicated ideas into familiar concepts. In fact, I credit weird analogies to helping me pass eighth grade Science! 
Because of analogies, I can still remember that a cell membrane is like an Oreo cookie, with two fat layers (the cookies) sandwiching a middle layer (the cream). Not sure when that fact will come in handy, but I'm glad it's still in the old noggin!
So, here below is the best analogy I could think of for knitting in the round.
But first: let's talk about mountains (I told you my analogies are weird!)
If you've ever driven up a steep mountain, you might have encountered a switchback. A switchback is a path that has a zig-zag pattern instead of a straight path. The zig-zag shape protects the trail from erosion and also makes it easier to climb.
You can think of knitting on flat needles like driving up a switchback path. You knit one row, turn the needle around and knit the back of the row. You alternate between the front and the back, knitting your way "up the mountain." 
Knitting in the round, on the other hand, is like a train going up the perimeter of the mountain, spiralling up to the top. Because there's no stopping and turning, unlike our car on the switchback path, the train moves really quickly. 
And so it is with knitting. Knitting in the round is much faster than knitting flat. This is because you're always knitting on the front of the fabric. At no point do you turn the fabric around to knit the wrong side. 
Like the train heading up a mountain, your knitting progresses in one continuous spiral. There's no turning back – just moving forwards.
What Circular Needle Should I Use?
If you're knitting from a pattern, follow its recommended needle length and size and use it as a base to get knitting gauge.
If you don't have a pattern as a guide, you've got two features to consider:
1. Length of the needle
2. Material of the needle
LENGTH: As a rule, you should choose a needle length that is shorter than the circumference of your project. 

For example: if you plan on knitting a hat that's 20 inches in circumference, choose a needle length that is shorter than 20 inches. A traditional length for hat knitting is 16 inches. 
Why does the needle need to be shorter than the knitting?

Think about it this way: 

If you knit a 20 inch hat on a pair of 32" circular needles, your hat will not sit comfortably on the needle. Because the hat is 12 inches smaller than the needle, it will be stretched and straining against it.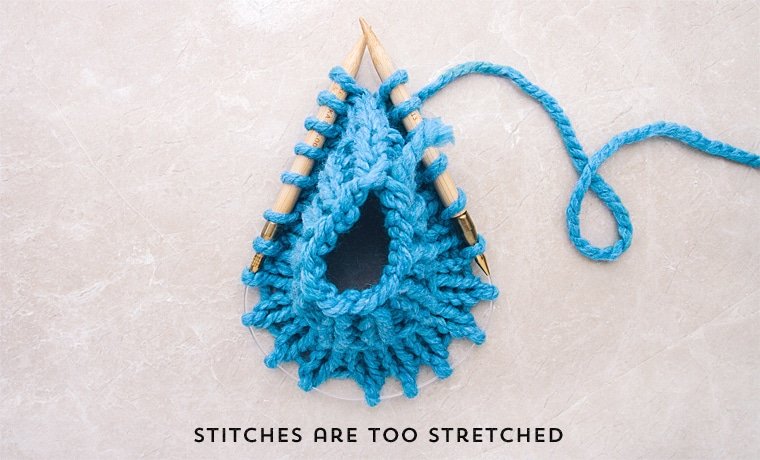 That doesn't make for a fun knitting experience. You'll also end up stretching out the hat before you've had a chance to wear it. It's a lose-lose situation.
Thankfully, most patterns list the exact needle length required, thereby eliminating the guesswork. But the rule remains: choose a needle length that's shorter than the knitting, and you'll prevent future tears and frustration. 
MATERIAL: Like regular needles, circular needles come in a variety of materials. Choose from bamboo, wood, steel and plastic. The choice is yours!
In general, I recommend bamboo or wooden needles for beginners. Both materials have good surface drag, making the yarn less slippery on the needle.
As you become more comfortable with circular knitting, you might prefer steel or aluminium needles for their smoothness and speed.
I've tried a lot of circular needles – some good, some bad, some downright ugly! Here are my recommendations for beginners:
For circular bamboo needles, I'm a big fan of Clover Takumi. They are widely accessible, have smooth joins from the needle to cable, come in a wide array of lengths and sizes, and are fairly affordable. They're also lightweight, which is typical of bamboo.
You can get Clover Takumi bamboo needles on LoveKnitting here or Amazon here
For metal needles, I like Chiao Goo and Knit Picks. Chiao Goo are stainless steel needles with an eye-catching red nylon-coated steel cable. They're smooth, light, and come in a bunch of different lengths and sizes.
They also feature a "memory-less" cable, meaning the cable won't hold the shape of any bends and curls. They are highly rated on Amazon, and they've turned me into a convert too. A solid choice.
You can get Chiao Goo circular needles on LoveKnitting here or Amazon here
Knit Picks is also highly recommended for steel needles. Their needles are nickel-plated over a hollow brass core, making them very lightweight. The cable is marketed as being "low memory" and I'd say that's pretty accurate.
I purchased my first pair of Knit Picks circulars way back in 2006. They lasted a good six years of constant use (and abuse) before the cable breathed its last and snapped out of the needle. RIP.
Online, you'll find a large fanbase for Knit Picks. They got into the yarn supplies game very early on, and many knitters (myself included) have a soft spot for them.
You can get Knit Pick circular needles on KnitPicks here
Key points:
When knitting in the round, you're always knitting on the front of the work. You never "turn" the needle to knit on the wrong side. 
Not needing to turn the work means knitting in the round is much faster than knitting flat
Knitting in the round produces a seamless tube-like fabric
When choosing a needle, the length of the needle should be shorter than the circumference of the knitting. (For example: use a 16 inch circular needle to knit a 20 inch hat). 

Bamboo and wooden needles have more surface drag and "grip" while steel needles are more smooth and slippery.
Knitting in the Round Video Tutorial
Whew! That was a lot of explanation up top. Now, it's time to pick up your circular needles, grab some yarn and learn how to knit in the round!
Check out the photo guide below for a detailed step-by-step guide to knitting in the round.
Knitting in the Round Step-by-Step Photo Guide
For those who like learning through photos or who need a quick refresher, check out the photo tutorial below. It goes through the main points of knitting in the round.
For reference, the yarn used in the photo tutorial is Malabrigo Silky Merino in color Green-Grey.
Joining Seamlessly in the Round
To make your join seamless, try this quick knitting technique. It's incredibly easy and makes the most invisible join!
And that brings us to the end of this knitting in the round tutorial. I hope you feel more confident to pick up a pair of circular needles and begin knitting! Let me know if you have any questions below in the comments section.