At some point, you might look down at your knitting and think, "Whoa! Why do I have so many stitches on my needle?" You've got more stitches than you cast on!
You, my friend, have accidentally added extra stitches to your work. It happens to most beginner knitters, so don't beat yourself up about it.
In this post, we'll go over how the extra stitches got there in the first place, and how we can fix the knitting holes that appear.
Why Do I Have Extra Stitches in My Knitting?
Mistake 1: Yarn Overs
Oftentimes, extra stitches become embedded in your knitting because the working yarn accidentally makes its way to the front of the needle. Once it's in the front and you knit into the next stitch, a "yarn over" is created. This is basically an extra stitch.
A yarn over also creates a big knitting hole. So, if you notice a bunch of holes in your knitting, chances are that you've created a yarn over by accidentally bringing the working yarn to the front of the needle.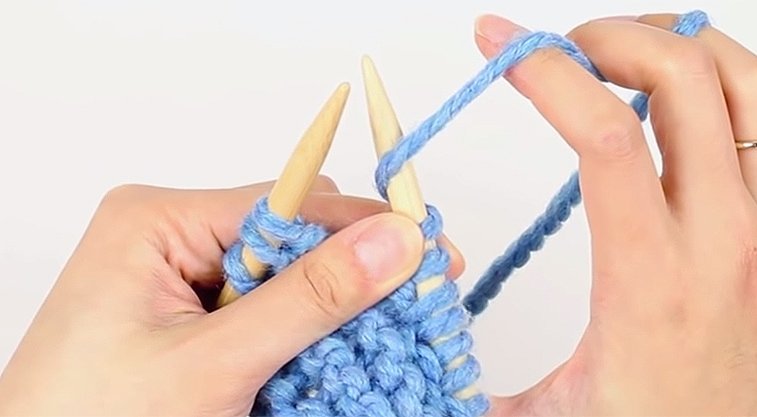 Mistake 2: Knitting Between Stitches
Another way that extra stitches get worked into the knitting is by accidentally knitting in-between two stitches.
This happens when, instead of knitting into the next stitch, you push the needle into the space between two stitches and knit into it, creating a brand new stitch.
How to Fix Extra Stitches and Knitting Holes
If the added stitch is embedded several rows into the knitting, then it's pretty hard to fix. Like heart disease, the best remedy for added stitches is prevention.
So, to prevent yarn overs, keep your eyes peeled to ensure the working yarn doesn't get to the front of the needle.
Fixing Yarn Overs
If you've made a yarn over, the best time to catch and correct it is on the next row.
When you're knitting into the back of a yarn over, you'll notice that it looks different than the other stitches. It looks like a strand of yarn that's looped onto the needle. Instead of stitches below it, there's a big hole. It's an imposter!
To get rid of the yarn over, push it off the needle. Just shove it off! That's it. This fix requires that you're vigilant when knitting so that you notice the yarn over.
If you knit into the yarn over on the back side, then you've kind of cemented it into the knitting. It becomes harder to remove.
Fixing Added In-between Stitches
Unlike yarn overs, there's no dead giveaway (like a gaping hole) for stitches made by knitting in-between stitches. The added stitch blends in stealthily with the rest of the stitches.
By the time you realise that you've added in an extra stitch, it's next to impossible to find where it slipped in.
The K2tog Fix
One way to fix extra stitches is by reducing the overall stitch count. It's not so much a fix as it is a bandaid, but if you've added just one or two stitches, it can work in a pinch.
This is how it works:
For every one stitch that is added, work one K2tog (knit two together) to reduce by one stitch. The k2tog is a decrease stitch that combines two stitches into one stitch.
For example, let's say you started with 25 stitches and added two extra stitches in the course of knitting. You've now got 27 stitches when you want 25 stitches.
To drop the stitch count back to 25, you can work two k2togs. You can work them into the row however you like.
I recommend the K2tog fix for situations where you've increased by 1-3 stitches. If you've added in a lot of stitches, the knitting can look funny and tapered in on the row where the K2togs are worked.
If all Else Fails: Unravelling
If you've added in a ton of stitches, or if your knitting is full of holes from yarn overs, then your best bet is to unravel the knitting.
It's a huge bummer, but sometimes the only way forward is backwards.
Unravel to the point where the stitch count is back to normal and continue knitting.
If you're interested in learning how to unravel properly, check out this post on the Correct Way to Unravel Knitting.
Click This: Check out this post on the 3 Common Knitting Mistakes and How to Fix Them (one of the most popular posts on the site!)