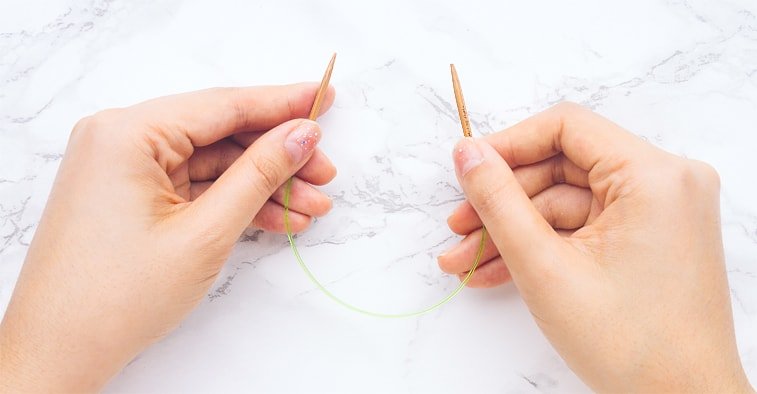 The shortest standard circular needle is 16 inches. But did you know that even smaller circular needles exist?
These mini circular needles run between 9 and 12 inches, and are marketed as being tiny enough for knitting socks, sweater sleeves, baby hats and mittens in the round.
For knitters who dislike knitting with double pointed needles and magic loop, these mini circulars could be a huge game changer.
Mini circular needles have been on my radar for several years. But only after a knitter friend talked excitedly about them in hushed reverent tones (the word "life changing" was used) did I decide to test them out for myself.
Where Do You Buy a Mini Circular Needle?
My first stop was the internet. Unless you live near a well-stocked yarn store, your best bet for finding micro circulars is online.
While clicking around on Amazon, I was surprised to find that many needle brands have added mini circulars to their product line. What I assumed was a niche product within a niche craft turned out to have a fairly large fanbase.
On Amazon, Hiya Hiya's metal 9-inch needle is the most popular, with over 100 positive reviews!
Hiya Hiya, Clover, ChiaoGoo, Addi, and Knitters Pride all carry a range of mini circulars. They come in various sizes, from 1.5mm to 5.5mm and are made from bamboo or metal. Prices range from $6 to $18 USD.
Because I'm a sucker for bamboo and sock knitting, I chose a pair of 2.75mm Hiya Hiya 9-inch circular needles in bamboo. After checking out, I felt that flutter of excitement that so often accompanies impromptu online purchases – will the product be everything I dreamed of? Will it change my life? Is this the best online purchase I've ever made?
Mini Circular Needles: First Impressions
The 9-inch Hiya Hiya's arrived in a plastic zip bag with a product card. Also included was a bulb safety pin marker, which doubles as a stitch marker.
At first glance, the needle looks impossibly tiny.
The needle tips measure 1.75 inches and the cable is roughly 5.5 inches, making the whole needle exactly 9 inches.
What's it Like Knitting with Mini Circular Needles?
I decided to test this needle by casting on 64 stitches for a pair of top-down socks. I would knit for at least two hours to get the full mini knitting experience.
Trouble arrived almost immediately. The bamboo needle had a lot of surface drag, and moving the cast on stitches along the needle was surprisingly difficult.
I ended up using a separate needle to cast on all my stitches. Then, I transferred those stitches back onto the mini needle.
Not a great start to our mini-needle adventure, but I decided to sally forth and start knitting!
After 45 minutes of knitting, my hands began to cramp. After 90 minutes, I started to feel it in my shoulder. I had to stop knitting a couple times just to stretch.
As a result, my hands and shoulder were practically crying by the time I finished knitting.
Because the needle is so small, it restricted my range of motion and caused me to grip it tightly and hunch over. Not very ergonomic!
The best way to work with the needle was to hold it very close to the tips, which gave the best control.
Conclusion
If I could do it again, I would purchase the Hiya Hiya or ChiaoGoo steel needles since the bamboo had too much surface drag, making it difficult for the stitches to move across the needle. Steel needles might have made the experience a little easier.
Even among my knitting group, these mini needles are polarising. I brought them to a meet up and had a few people try them out.
I didn't find any logic to which knitter would like or hate them. A friend who has larger hands than me found them quite comfortable after knitting for half an hour.
Another friend with smaller hands found them completely impossible. "These are the devil," were her parting words as she threw them back at me in disgust.
I suspect that continental knitters will have more luck with these than English knitters since continental knitting doesn't require "throwing" the yarn.
While the mini circular needles didn't work out for me, the only way you'll know if you like them is to try them out. There are hundreds of knitters who love them (going by Amazon reviews), so who knows? You may find them comfortable and life-changing!